Collections
Shop for artwork based on themed collections. Each image may be purchased as a canvas print, framed print, metal print, and more! Every purchase comes with a 30-day money-back guarantee.
About Leonard Rubins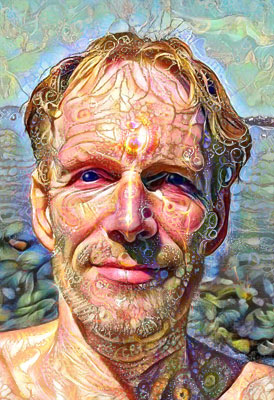 Artworks by Leonard Rubins
Rubins Computer Graphics, Mixed Media Paintings and Digital Collages are extremely interesting and challenging for today's audience. First, because of his unusual visualizations as compared to the existing artistic guidelines of Surrealism. As for the contents, intimate iconography mixes with the traditional historical iconography in an unusual and original way. As for his response to the tempting beauty of trumpery, capricious citing of history and fantastic assemblings, Rubins is close to Surrealistic classicism, as for perfected formalism he is close to New-age media in visual arts. Enigmatic stories are eclectic mixtures of Spiritual iconography and the typology of good and evil in their semantic relativizations through the evocation of archetypes and alchemist union of opposite poles. Artist concepts are interwoven with rich significations of dreams in abundant and deep symbolic meaning of fantastic landscapes. Celestial architectures are sometimes close to early Surrealist scenographies which use Mannerist style for cityscapes or even to curious Ferrara Renaissance.
Rubins' scenes are exact sceneries, extending in space within the Renaissance horizon. Rubins is the director of his own imagination, when uniting different worlds in one harmonious world, where existing elements do not present a hindrance, on the contrary, he uses them in a fantastic scenery of his own making. His worlds are always telling us a story, with aesthetic poses of frightful, thus never really dreadful, but rather a magical sinking into depths of creation. Rubins freely changes mediums or combines classical painting with a brush, photography or collage and supplements them with computer possibilities. The brush, the mouse or computer brushes, represent manual inter medium, not of the central importance. The author's aim is to use whatever medium, from photographic collage, acrylic, computer graphics or a combination of any of techniques – where a medium remains a medium – it is merely the means to achieve the desired effect. The medium only purpose is to present and express the rich inner experience of the artist.